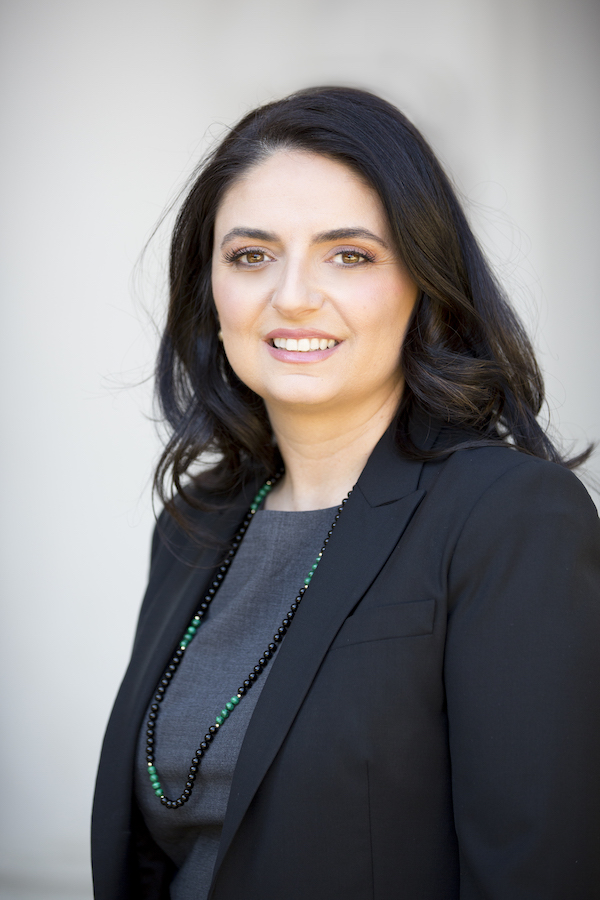 The Law Offices of Alice Tavoukjian specializes in criminal and juvenile defense. For the last twelve years, the courtroom has been Alice's office. She has defended thousands of individuals, charged with both misdemeanors and felony offenses. Her years of experience has led Alice to successfully litigate both hundreds of pre-trial motions and dozens of jury trials.
As a former attorney with the LA County Public Defender's Office—the oldest and largest public defender's office in the country—Alice has handled thousands of cases and contested hearings
Some of the charges she has handled or tried include:  DUI, domestic violence, vehicular manslaughter, robbery, drug offenses, rape, sex crimes, child abuse, and homicide. 
As a zealous advocate, Alice's goal has always been to get the best possible outcome for her clients.
Even if an outright dismissal or acquittal was not feasible, Alice has been successful at arguing for sentences that were superior to pre-trial offers. She has also successfully argued pre-trial motions, and has litigated preliminary hearings that resulted in either dismissal of charges or better offers.
Alice has also defended over fifty juvenile adjudications, in cases involving sexual abuse, robbery, and assault with a deadly weapon.
She is well-versed in the diversions available to clients; that is, alternatives to prison. These include mental health diversion, veterans' court, and women's reentry and drug court. Alice has successfully argued for diversions on behalf of numerous clients, even over the prosecutors' objections. When deemed necessary, she will litigate hearings for diversion, as well as thoroughly investigate your case to determine if diversion is an option.
Hiring the Right Attorney
The nationwide narrative on criminal justice is finally shifting: Former public defenders and reform advocates have been elected to lead district attorney's offices across the country. In California, recently-passed legislation permits judges to divert serious felony offenses, at least in certain cases involving mental health issues.  Now more than ever, it is critical to hire a defense attorney with an "outside of the box" approach, a wide breadth of experience, and relentless dedication to your case.
Qualities to Look for in Your Future Counsel:
EXPERIENCE

You should consider the number of years the attorney has been practicing law. Additionally, consider the experience they have in the specific charge that you are facing. It is helpful to know what percentage of an attorney's practice is devoted to criminal law.   

At the law offices of Alice Tavoukjian, not only do we have over twelve years of criminal defense experience, but we exclusively practice criminal defense. As a boutique law office, you will be provided with individualized attention and thoroughness.

 
COMMUNICATION

A criminal defense attorney must clearly communicate with you as a prospective client. She must answer your questions thoroughly and establish good rapport. You should ask yourself whether you feel comfortable talking to your attorney about your concerns.

It is important to have a mutually trusting relationship with your attorney; if your case proceeds to trial, your attorney has the right to make strategic judgment calls on your behalf.  Therefore, your attorney should thoroughly explain their reasoning and approach.

At the Law Offices of Alice Tavoukjian, we take great pride in our thorough communication style, and in our caring and compassionate approach to your case.  We work with the respected mental health professionals to evaluate clients and prepare mitigation reports. We strive to convey the whole picture of the client, rather than a "snapshot" of the alleged incident.  We thoroughly investigate the charge(s) and allegations rather than simply accepting the incident report at face value.

We employ this same communication style while dealing with the prosecution team and the judge. Alice's tenacity and ability to work with the other side has resulted in creative plea negotiations and favorable outcomes for numerous clients.


At the Law Offices of Alice Tavoukjian, you have an experienced attorney, who will walk you through the process and explore all options with you. Seemingly straightforward resolutions may have immigration consequences or other collateral consequences, such as those affecting your professional standing and licenses.
Courts or Counties Served
Alhambra, Pasadena, Glendale, El Monte, Pomona, Pomona Juvenile, Eastlake, Sylmar, San Fernando, Long Beach, Inglewood, Inglewood Juvenile, Compton, Lancaster, Lancaster Juvenile, Compton, Compton Juvenile, Rancho Cucamonga, Orange County, and San Bernardino County.
Call for a Confidential Consultation:
Spanish, Armenian, Mandarin, and Cantonese spoken at the Law Offices of Alice Tavoukjian.
Flexible payment plans available.
About Me:
Alice has devoted her professional career to criminal defense. While in law school, and after admission to the State Bar of California in 2006, she clerked for the Law Offices of the Los Angeles County Public Defender. For the next twelve years, as a full-time attorney with the Public Defender's office, she defended thousands of individuals in courtrooms all over Los Angeles County. She is active with the California Public defender's association, the National Association of Criminal Defense Lawyers, the California Attorneys for Criminal Justice, and the Criminal Courts Bar Association. She is also a member of the Pacific Juvenile Defenders.
In addition to working full-time, Alice actively volunteers in her community and provides pro bono advice through Public Counsel's legal clinic.  She strives to provide low cost services to Immigration Legal Services of San Gabriel Valley, and she volunteers at expungement clinics in Los Angeles. 
Bachelor's of Science Degree: Political Science and International Studies: University of California, Irvine
Juris Doctorate: Loyola Marymount University, Loyola Law School
Juvenile Defense
Children have different legal needs. At the Law Offices of Alice Tavoukjian, our approach involves utilizing all family and community resources available to establish the best possible plan for the child.
The law is rapidly changing in this area, and it is now required by California courts that practitioners maintain training in juvenile defense. In addition to the minimum requirements set forth by California court rule 5.546, ask how many years your prospective attorney has practiced juvenile law. At the Law Offices of Alice Tavoukjian, the managing attorney practiced juvenile law full-time for over a year, during within her twelve years a criminal defense practitioner, and she actively attends trainings in this dynamic area of law.
In her later career as a felony practitioner, Alice Tavoukjian continued to employ the mitigation techniques she learned while practicing juvenile defense. Holistic representation is most critical in the juvenile arena, to ensure that the child's needs are met and that he or she remains on track to become a successful adult.
Unfortunately, children could have strike offenses as early as age sixteen, and this can—and typically will—be used against them in adult court. Also, children could be faced with a transfer hearing, where the prosecutor seeks to move the matter to adult court jurisdiction. It is critical to have an experienced and zealous advocate in the area of juvenile defense.
Mental health professionals, education professionals, investigators, and social workers must all be employed to address a child's needs. Placement decisions are critical to ensure the child's success. We will explore all options and vigorously advocate for the best possible placement for the child, if placement in the child's home is not a suitable option.
Common Practice Areas:

Domestic Violence
Common Charges include Penal Code §273.5(a), Penal Code§243(e)(1), Penal Code §422, Penal Code §245(a)(1), Penal Code §245(a)(4)
Whether filed as a misdemeanor or felony, this charge has lasting consequences for an individual's criminal record, job prospects, and gun ownership rights. Oftentimes, there are no independent witnesses to corroborate domestic violence allegations. An effective attorney should thoroughly investigate both the charges and the individual alleging the violence. This type of charge carries special fines and fees, including mandatory 52 week classes or longer probationary periods.
Assault & Battery Charges
This is typically classified as a misdemeanor charge, but if there are "serious" injuries, the charge could be elevated to a felony.
Vehicular Manslaughter
Oftentimes, when a district attorney files a case, the accident details are unclear, and witnesses have biased and unreliable memories of the incident.   An experienced attorney will hash out all the details at the preliminary hearing, and if necessary, bring on experts to assist in your defense.
Driving Under the Influence (DUI)
There are many areas to contest in DUI cases, from the way the initial stop was handled, to the way officers handled field sobriety tests, including blood or breath tests. Officers must comply with federal standards in the administration of tests, or there may simply be insufficient evidence to proceed.

DMV hearings present an opportunity to cross-examine the officer, learn all details, and explore possible defenses.
Vehicular Offenses Such as Hit and Run
Many misdemeanor offenses, including hit-and-run charges, are eligible for dismissal through Penal Code §1377/1378, if victim is satisfied with damages
Robbery and Theft Offenses
Commonly charged as Penal Code §211, Penal Code §487(a), Penal Code §484, Penal Code Section §484(e), Penal Code §470.
Identify theft and many other theft convictions are now misdemeanors.
Theft offenses could easily escalate into a robbery charge. A robbery charge is fact-intensive and requires a thorough evaluation of the circumstances that led up to the charge.
Assault with A Deadly Weapon
 Penal Code §245(a)(1)
Criminal Threats
Penal Code §422
Weapon Charges
Felon with firearm
Modified firearm
Unlicensed firearm.
Possession of nunchakus
Possession of pepper spray
Drug Offenses
Many possession offenses are misdemeanors. 
Possession for sales of narcotics typically carries a lengthier sentence.
Sex Crimes
These charges are highly sensitive and delicate. An experienced attorney will carefully approach the investigation of these charges. Sex crimes include:
Indecent exposure, annoying or molesting a minor, sexual abuse of a minor, unlawful intercourse with a minor, statutory rape, assault to commit rape, and rape, sexual battery, or failing to register as a sex offender.
Theft Crimes
Other crimes include burglary, shoplifting, forgery, kidnapping, unlawful taking of a vehicle, joyriding, firearms, robbery, carjacking, battery against custodial officers, pimping and pandering.
Crimes Involving Police Officers
Typically charged Penal Code §148, Penal Code §69
Disagreement with an officer could quickly escalate to a situation where you are charged with obstruction, delaying peace officer, or even assaulting an officer. There may be no other witnesses to these encounters. An experienced attorney will request audio or video information of the encounter, and also investigate whether any prior complaints have been levied against the officer involved.
Gang Crimes
Gang enhancements typically elevate a misdemeanor into a felony, and a felony into a strike. The prosecution may be relying on old discovery, or no discovery at all, to establish gang membership.  Prosecution may also be looking at an isolated incident through the lens of gang association. 
Post-Conviction
In addition to trying cases, Alice Tavoukjian is experienced at handling post-conviction matters. Post-conviction relief includes expungements, or reduction of the charge to a misdemeanor or an infraction.
In Penal Code §November of 2014, California voters approved the Safe Neighborhoods and Schools Act (Proposition 47), reducing many theft-related offenses to misdemeanors, with certain exceptions. This bill is constantly being relitigated and reevaluated. Make sure to consult with an experienced attorney, who can identify whether prior convictions are eligible for reduction.

In November 2016, California voters passed the Control, Use, and Tax Adult Use of Marijuana Act (Proposition 64). Many marijuana possession cases are now legal, or may be deemed only infractions, based on the age and criminal record of individual. 
Immigration - Motion to Vacate a Plea
Penal Code §1016.5
A prior conviction could be preventing you from gaining immigration relief. The Law offices of Alice Tavoukjian will work closely with your immigration attorney to explore your options. You may be eligible to withdraw your prior conviction.
At the Law Offices of Alice Tavoukjian, we can also assist with filing expungements and motions to reduce to misdemeanors or infractions. 
Law Offices of Alice Tavoukjan, PC
135 E. Valley Blvd, Suite B
Alhambra, CA 91801 
626-386-8606